Jyotisha is the traditional Hindu system of astrology, also known as Hindu astrology, Indian astrology, and more recently Vedic astrology. The term Hindu astrology has been in use as the English equivalent of Jyoti?a since the early 19th century, whereas Vedic astrology is a relatively recent term, entering common usage in the 1980s with self-help publications on ?yurveda or Yoga. Vedanga Jyotisha is one of the earliest texts about astronomy within the Vedas. However, historical documentation shows that horoscopic astrology in the Indian subcontinent came from Hellenistic influences, post-dating the Vedic period.
Jyotisha has been divided into three main branches:
Siddhanta: Indian astronomy, calculating the position of the planets and other heavenly bodies. Hindu calendar (Panchanga) is created from that calculation. 'Siddhanta Siromani' and 'Surya siddhanta' are two main books on Hindu astronomy. According to this theory, the earth is motionless and it is not considered as a planet. Seven planets (Moon, Mercury, Venus, Sun, Mars, Jupiter, Saturn) revolve around the earth.
Samhita: Mundane astrology, predicting important events related to countries such as war, earthquakes, political events, financial positions, house and construction related matters (V?stu Sastra), animals, portents, omens, and so on. It is also concerned with the calculation of Subha Muhurta for Brata, parba and Sanskara
Hora or 'Jataka': Predictive astrology where the astrologer makes predictions about future events in a person's life based on a birth chart (Janma kandali) which records the exact time of birth and the positions of the planets at the time.
Consult an Astrologer
Acharya Anupam Jolly: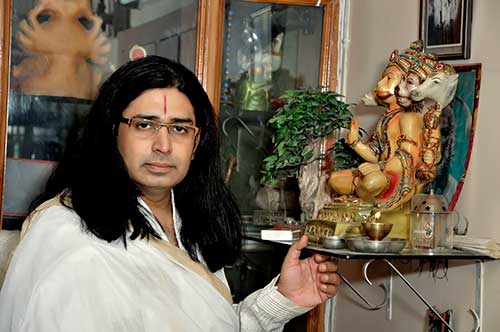 Acharya Anupam Jolly is one of the best astrologer and astrology teacher from Jaipur Rajasthan. He is consulting and teaching many Indians and Foreigners from 1998. He is a world-renowned astrologer with over 17 years of experience in the field of Astrology. His clientele spans over countries from all the continents of the world and belongs to various religions. His clients are always amazed by the accuracy of his predictions and swear by them.
Acharya Anupam Jolly have born in a very simple family which has no background of Astrology even they weren't good believers of it. He started my life with a thought: "I will live my life as a SPIRITUAL HUMAN SOUL". He completed my education from Rajasthan University with science faculty. With the graduation he was studying Astrology also. He is teaching astrology from 1998 and with proud he can say that he could be good teacher because he had a very good teacher, who advised me to learn other subjects also like Vastu Shastra, Palmistry and Ramal Shastra. He took his advice very seriously and started studies in these subjects. Acharya Anupam Jolly did research on vastu shahstra and found that "we made a house once in our life time but that house makes us daily"…. If a house is not constructed as per the vastu rules then the family whether they are owner or not whoever are living in house will be punished by the vastu lord. Any ritual or any custom, tantra mantra, pooja path cannot save them. One Generation to next generation will face pains, failures, troubles and spoiled relationships so and so. Here he is  not creating threat he is  just telling the facts. Every one  want a prosperous and peaceful life but without a vastu according house this is not possible. Acharya Anupam Jolly got his way to live a life without any compromise with my responsibilities and requirements. Yoganand Ji said if you run away from your duties you cannot get a path of Divinity. I am living in my desired family with my desired pattern of life.
ANUPAM JOLLY
Email: info.isads@gmail.com
Phone: +91-9636243039
Web: www.astrologynspiritualism.com, www.vaastuved.com, www.ramalastrology.com
Facebook Fan-page   |   Facebook Friend-page    |    Twitter     |     Google +
Astrologer, Ramal Shastri and Vastu Shastri
Energy Exchange: Rs. 3100 /- | $ 48.36 for Three Question
Dr. Himani J: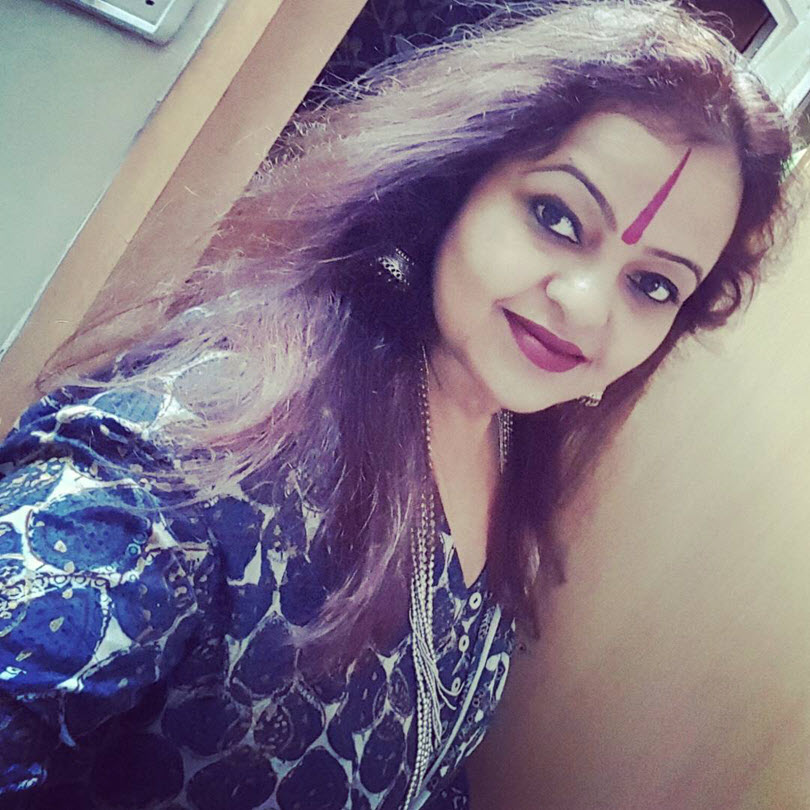 If we choose our profession as per our desires, our soul gets satisfaction and at this level of satisfaction we are the "REAL ACHIVERS". I exactly did this and I choose "TAROT CARD READING" for myself and I know I am a "REAL ACHIVER". I born in a family where my grandfather and other senior generations did very tough spiritual practices: Where we learn spiritual and our Hindu rituals by birth. We belongs a very secret cult and we practice "TANTRA MANTRA" like a child who plays with a toy. We communicate with souls like humans, we help them and we take guidance from them. I remember the day when I first time saw my love and my passion "TAROT CARDS". It was January 23, 1997. I was in Delhi and it was a book exhibition. I saw a Tarot deck it was attracting me and unfortunately I had not sufficient amount to buy that. My friend gave me some credit and I bought that. It was a major change in my recent life. When I bought that, my mother was in my mind and I was excited to give this deck to her. In 1997 Tarot card reading was a very rare method to predict future and I wanted that my mother should read about it. But "DESTINY WAS BUSY IN WRITING SOMETHING ELSE"…. It was "ME" who was chosen for this. When I gave this gift to my mother she said that I am not comfortable in English literature it will be good that you read and translate this subject for me…. Oops.. Now a new responsibility was on my shoulders, I said myself: "well I will do this". I couldn't teach my mother till now but I am teaching TAROT CARD READING from 2002. Thousands of students learnt this beautiful science from me and doing pretty well. I invented so many SECRET TECHNIQUES in Tarot Readings. For example a very ACCURATE TIME CALCULATION TECHNIQUE which has proven correct, all the times and about other reading techniques you can know more from my website www.tarotgyan.com. I respect my profession because it has given me an identity; it gives me a very deep relaxation without any meditation. I love to share other's pain and I feel proud when I give them a right solution. When people trust me and I help them I feel that I am pleasing my divine God. I believe that when we do something good for the human grounds our divine God remove all the hurdles and obstacles form our life. My motive of this life is spread love and peace in this world. I am working with an NGO also where we help the slum area children. We provide them all the facility for necessary education. We have built a school building, where all the students are learning without fees. We provide new school uniform to everyone- every year. Our NGO is providing them free meal everyday, stationery and other important things. I am sharing with you because I want to motivate you to help others with any which ways you can do.
HIMANI J
Mobile : +91-9636243039
E-mail : dr.himanij@gmail.com
Web : www.tarotgyan.com, www.astrologynspiritualism.com
Facebook Fan-page   |   Facebook Friend-page    |    Twitter     |     Google +
Tarot Card Reader & Astrologer
Energy Exchange: Rs. 3100 /- | $ 48.36 for Three Questions